Nidec-Shimpo Introduces: The Flexwave

FLEXWAVE Component Structure & Operating Principles
Three gearing components form the basis of the product line
The product assembles and operates concentrically
---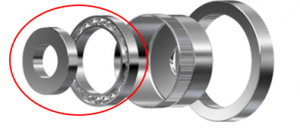 Wave Generator
An assembly of a bearing and a steel disk which is called a Wave Generator plug.
Outer surface of the Wave Generator plug has an elliptical shape that is carefully machined to a precise specification. A specially designed ball bearing is pressed around this bearing plug causing this bearing to conform to the same elliptical shape of the Wave Generator plug.
The Wave Generator is typically used as the input member, usually attached to a servo motor.
---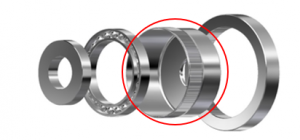 Flexspline
The Flexspline is a thin-walled, radially compliant steel cup. Gear teeth are machined into the outer surface near the open end of the cup.
The cup has a rigid boss at one end to provide a rugged mounting surface.
During assembly, the Wave Generator is inserted inside the Flexspline such that the bearing is at the same axial location as the Flexspline teeth. The Flexspline wall near the brim of the cup conforms to the same elliptical shape of the bearing. This causes the teeth on the outer surface of the Flexspline to also conform to this elliptical shape.
---

Circular Spline
Rigid circular steel ring with teeth on the inside diameter, located such that its teeth mesh with those of the Flexspline.
The Circular Spline is usually attached to the housing and does not rotate.
Up to roughly 30% of the teeth are engaged at all times.