Creative Motion Control: Delivering Innovation in Bearings, Performance Roller Screws, and Roller Screw Actuators
Creative Motion Control was founded in 2002 on the simple concept that a new, patented grooved roller bearing that can dramatically increase life and load, when combined with the technology of planetary roller screws, would create a true paradigm shift in the electromechanical linear actuator market. Combine this with outstanding customer service, and you have an unbeatable package. The patented CMC Grooved Roller Bearing is the result of a dedicated team of design and manufacturing engineers that set out to redefine the standards for performance, efficiency, availability, and cost of bearings throughout the world. CMC continues to position itself as a catalyst for innovation by developing and delivering new game changing motion control technologies.
Below is a sample of the products we offer.  Contact us for a full list of our offerings.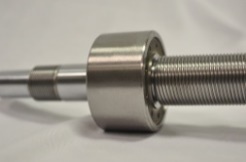 Innovative engineering is at the core of Creative Motion Control's success. Our team of rocket scientists (literally) have designed and patented the future of the bearing industry. We have extensively tested the units to ensure adherence to our published specifications and capacities. All of this work has resulted in our ability to bring you unmatched performance: higher load capacity, longer life, and more efficient operation. We simply live to innovate.
Our products have a positive net effect on the environment. By operating at a significantly higher efficiency rate than competitive technologies, CMC's roller screws and bearings require less power to operate. Our cost and performance advantages make replacing hydraulic and pneumatic actuators with electromechanical actuators a truly viable alternative.
Located in Woodinville, Washington, in the Greater Seattle area, Creative Motion Control is excited and proud to be a leading manufacturer of American made roller screws.
Everyone at Creative Motion Control is here to serve you – from engineering to manufacturing to sales to delivery to customer service. The team at CMC is here to help optimize your designs and deliver products that will make your equipment smarter. As the value leader in the linear motion control industry, CMC challenges you to consider the possibilities.
For more information on Creative Motion Control visit: http://www.creativemotioncontrol.com