We are thrilled to announce our newest motor / actuator with integral controls, the Exlar SA-R080 (rotary) and SA-L080 (linear) actuators. The SA080s are the first frame size (80 mm) in the harsh environment control and sense family. See it in action on MAD MAX at AUSA starting today!
MAD MAX (Mechatronic Actuated Demonstrator-Multi-Axis)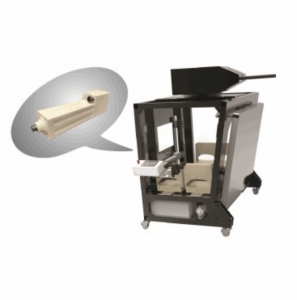 Our SA Series is featured on MAD MAX at AUSA this year. Pictured on the right is MAD MAX which features the latest innovation in electromechanical actuation and highlights six different axis of motion, including a Smart Actuator (SA Series) for door assist. Check it out now!
The SMART electric actuators (SA Series) with integral motor and controls were designed specifically for the most extreme conditions when significant downtime is a serious cost. They offer absolute position control with an integral multi-turn encoder allowing for precise positioning. These advanced intelligent electric actuators are suitable for a wide range of applications including those below:
Autonomous vehicle or robotics applications
End effector rotary or linear motion
Arm elevation or azimuth
Vehicle externally operated systems
Antennae deployment
Tow/winch operation
Ramp lift/lower
Driver assist technology
Armored door assist
Heavy duty hatch open/close operation
Field deployed mast or radar systems
Elevation
Precision positioning